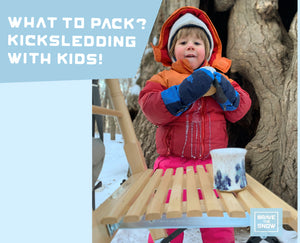 Kicksledding With Kids and Toddlers: Ultimate Packing Checklist for Maximum Family Fun on Winter Snow Trails
Kicksledding with toddlers and young kids is rewarding, makes winter travel easier, and is SO fun! Whether they ride on the seat or kick their own sled, you are bound to cover more distance by kicksled. That is, if you are prepared. Here are some ideas for what to pack when you hit the trail for either an hour or a day trip with your kiddos. 
Lots of snacks

Pre-made hot cocoa or a warm drink in an insulated canteen.


Insulated water bottle with water

Extra mittens

Extra socks

Emergency blanket

Toilet paper/tissue and a small plastic bag

Headlamp

Bungee cord (optional)

Traction devices-crampons

First aid kit

Hand and toe warmers

Lip balm

Sunscreen
Winter Trail Snacks 
Bring a variety of snacks and LOTS of them. Bonus points for larger snacks that can be held with mittens; on cold days in Minnesota, fingers get cold fast. Think bars, food wrapped in tortillas, large pretzels, jerky sticks, string cheese. Foods that don't require fine motor skills are less likely to drop in the snow and cause tears.

Even though your littlest passengers might be sitting on the sled most of the time, they are still burning more energy due to the cold. And so are you. Sometimes physical activity in the cold can leave us feeling less hungry, but remember to snack up.

Pre-made Hot Cocoa or Warm Drink
Looking forward to hot cocoa on the trail is a driving force of a good kicksledding adventure. Insulated water bottles keep beverages hot all day.  It can be challenging to open up packets of hot cocoa in the cold, an can be easier to have the cocoa already made in the canteen. Little insulated cups with grips on the side are great for staying put in hands that are wearing mittens. 
Pre-made cocoa mix works great but we prefer to make our own. Using milk instead of water adds protein. Add a Tbsp of powdered cocoa and a few tablespoons of sugar to just boiled milk. That's it. So easy. Marshmallows optional.

Bonus Challenge: If you have a small camp stove and camping gear, it's fun to make Easy Mac on the trail by boiling snow. Nothing like a hot meal on the trail. It does cool down at an alarming rate and we only do this on days that aren't super cold. Pack up dirty dishes and wash them at home. This can be a once-a-winter tradition that kids really look forward to.

Water in an Insulated Water Bottle
While we're probably not going to be outside long enough for our water bottle to freeze, it's still nice to have water that isn't ice cold. It's more difficult to drink large amounts of freezing cold water and staying hydrated is important.
Extra Mittens 
Extra mittens will come in handy if mittens get wet or if a mitten gets lost. Of, if hands get really cold, you can double up mittens instead of having to give your kids yours.

Extra Socks
In case boots get wet or feet are extra cold, have extra socks on hand. Thick socks can double as mittens. You never know when snow is going to get in a boot, and then melt. Or when a boot is going to find some water. Or when a child pees before getting all of their layers off. While completely changing clothes in this situation isn't practical, at least getting them into dry socks provides some warmth and comfort.
For a kid that is new to using the toilet, wearing a diaper for a long kicksledding adventure can be helpful. Sometimes getting all those layers off in time just doesn't work out. Having a diaper on can save the trip.
Emergency Blanket

Thin silver emergency blankets fold up to the size of a travel tissue package, available at any outdoor shop. They actually do hold in a substantial amount of heat. There are also more heavy duty ones that can withstand everyday use. It can be used as a mat to sit on, or a blanket to make little ones feel cozy.  Look for one that has a reflective surface that has multi layers of fabric or tarp material.
Toilet Paper or Tissue and a Small Plastic Bag
If anyone needs to go, you'll be ready to pack it out by using your plastic bag. Being able to wipe if you need helps maximize comfort. When it's cold, wet wipes are not appreciated by kids! And they are probably frozen by that point anyway.  Brrrrrr.
Headlamp in a Plastic Bag
Great to have in case of an emergency. It gets dark so early in winter, it can be easy to lose track of time when you are having a great time on your kicksled. Most headlamps have an emergency flashing mode. Also, you never know when you will come across a really neat cave! Even though the best kicksledding usually takes place on packed trails with a lot of foot traffic, best to be prepared.

Bungee Cord (optional)

If you are going out on the trail with two sleds, bring a bungee cord. If a child is kicking their own sled on the trail along with a grown up kicking their own sled, a bungee cord can be used to connect the sleds together. This comes in handy if a child gets too tired to push their own sled. Bungee the sleds together and get back to the car. This works best with the T2 and adult model kicksleds (T6, T7 and T8). The runners of these sleds can slide into one another and be held there with a bungee cord.

Traction Devices- Crampons
For an adult that is kicksledding with passenger children, crampons are a near necessity if you are thinking of going more than a mile or longer. Crampons are little metal spikes attached to a band made of rubber that slips around your boots. Crampons dig into snow and ice and will help the kicksledding adult better use their energy. This is very helpful when you are pushing 1-2 kids. That extra 70 pounds on the sled is noticeable. 
For more info on choosing crampons for kicksledding, check out our article on crampons.
Crampons are also great for kids when they get off their sled and want to explore, especially in icy conditions. No sports company makes crampons that are sold as "child size". This might be due to the spikes or perhaps there is just little interest.  But, HillSound does make a size XS. This size can work for kid size 4+ boots (if they are heavy duty boots such as Kamiks or other insulated boot types). If you are looking for child size crampons for ages 4-7, smaller than a kid size 4) and you are handy, you can modify size xs crampons by removing a link or two of the chain with a needle nose pliers.

First Aid Kit 
While scrapes aren't common with all that padding, it's still a good idea to have some medical supplies on hand. While band-aids are more likely to be used as temporary repair tape for a hole in a down coat that has been poked from a stick, you just never know. Considering adding a small tea towel to your first aid kit. Hopefully it will only be used for hot cocoa spill.

Hand and Toe Warmers for Kicksledding

When it's less than 25 degrees F, toe warmers are the way to go. If a child is riding as a passenger, they are not moving around much and will get colder faster than the person kicking the kicksled. Cold toes are the number one reason we have cut our kicksledding adventures short. 
The same goes with hand warmers. During our first trips, I used to covet the warmers. I would pack them in the bag, just in case we needed them. But, I quickly learned that it is much more difficult to warm up cold toes and hands. The warmers are slower to warm up in the cold air. Plus, by this time, complaining has already set in and taken over the vibe. Now, I just go for the hand and toe warmers at the onset of the trip. When kids have hand warmers and toe warmers we feel confident that neither of these two things are going to cut our trip short.

Also, it is a good idea to pack some extra warmers in case of emergency. The larger body warmers are great if you underestimate the cold or there's a drop in temperature and your child needs a warm up.
Lip Balm
Lip balm can be a live saver. It can also be used on little cheeks and hands to prevent chapping and wind burn.
Sun Screen
With leaves gone from the trees and snow reflecting rays, its easy to get sun burned. You might not even realize its sun burn, but even minor sunburn is going to leave you and little ones feeling more drained by the end of the day. Is is easy to apply a bit to the cheeks and nose before heading out or throw in in the bag to put on in the car. Sunscreen that comes in a stick works great but it will be a rock if you take it out in the cold.
Put it All in a Bag
All of these items can fit in a small backpack that can be worn by the person kicking the sled or hung from the handlebars.

Now that your bag is packed, you're almost ready to hit the trails with your kiddos! Check out our other articles: 

---