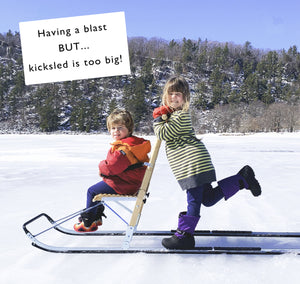 Choosing a Traditional Kicksled Size: Find the perfect fit now!
If you are feeling indecisive on which size ESLA Traditional Kicksled to buy, this article is for you. Size really comes down to personal preference. The height difference among kicksled models is less than 3 inches. The height difference between the T6 and T7 is 2.4 inches. The height difference between the T7 and T8 is 2.75 inches. This isn't very much, so don't get too hung up deciding a size if you are between sizes. The truth is, both sizes will work for you.

Here is the size chart for Traditional Kicksleds:
| | |
| --- | --- |
|  Size | Rider Height/Age |
| | |
| T2 | age 2-6 |
| T4 | age 6– 5' |
| T6 or P6 | 5'–5'7'' |
| T7 or P7 | 5'8''–6' |
| T8 | 6' 1'' + |
Questions to consider if you are between kicksled sizes:
Will you be sharing your kicksled with anyone else? 
Consider the height of the other person. If they are much taller or much shorter, in order to accommodate both riders, it might make sense to size up or down if you happen to be between kicksled sizes. 
Not kicksledding with a child? 
If no kids are in the mix, but you want to share your kicksled with a partner who is much shorter or taller, you might consider a KickSpark MAX or the ESLA Adventure Sled (special order). These kicksleds have a quick adjust feature that allows height adjustment. The KickSpark MAX adjusts for riders 4' 3''– 6'4''.

Do you plan to use your kicksled with your dog? 
If yes, and you are in between sizes, you may want to choose the larger size. Because the human will be spending more time in the standing position rather than the kicking position, slightly higher handle bars can be more comfortable.

Is the kicksled driver still growing? 
Wow, kids grow fast. If a child is between kicksled sizes, sizing up might be the best idea. By the end of the season, they can already be an inch or two taller.

Still not sure about which kicksled size? 
No matter the size you choose, you are going to have a blast cruising those lakes and trails! Go with your gut and get out there already! If you have looked over the size chart and are still unsure, email us at contact@bravethesnow.com or call us at (612) 405-3097‬ After all, talking about kicksledding is our favorite thing to do!
Other Kicksled Articles to Check Out:
---