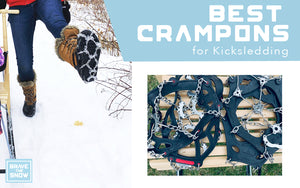 Best Crampons for Kicksledding & What's a Crampon?
Crampons, sometimes called spikes, microspikes, ice grippers or traction devices are an accessory worn over snow boots. Often they consist of a stretchy rubber ring that goes around your boot. This band holds on a set of chains and spikes to the sole of your boot. Depending on the brand and model, spike lengths vary. The most extreme version can be used for vertical ice climbing and the mildest version is great for walking on slippery city sidewalks.  For kicksledding, you want something in between. Medium sized spikes grip into packed snow and ice giving you more power for each kick. This extra power makes a huge difference when carrying a passenger and when trying to reach high speeds.

We have tested quite a few crampon brands and types with our kicksled. For kicksledding, you will find three companies making quality crampons: Hill Sound, Kahtoola and YakTrax. Below you will find recommendations.
Hill Sound
Hill Sound is a great company based in Canada. Their business is developing crampons. The Hill Sound FreeSteps6 Traction crampons perform very well on the trail with a kicksled. These crampons have 21 stainless steel 1/4 inch spikes. The spikes on this model are long enough to grip into the snow and ice and yet small enough to keep you stable on the kicksled foot rests. Feet should always feel stable. You don't want to feel wobbly like you are balancing on your spikes and these crampons do the job.

These crampons are backed with a two year warranty. Warranties that span seasons are great. It stinks when you pull out a winter item from the previous year only to see it's rusted or damaged. Hill Sound stands behind their products. Also, with a list price $49.00, this crampon isn't as expensive as the Kahtoola Micro Spikes which we will explore below. The Hill Sound FreeSteps6 Traction is our top choice for kicksledding!

Kahtoola
Kahtoola is another company designing quality crampons out of Flagstaff, AZ. Our pick from Kahtoola's line of crampons is the Kahtoola MicroSpikes. They are a bit more heavy duty than the Hill Sound FreeSteps6 and are a bit overkill for kicksledding, but still work pretty well. The Microspikes have 12 steel spikes and these spikes are a bit longer than those on the Hill Sound FreeSteps6. The longer spikes leave you with less stability when standing on the footrest. You do get a bit more grip with your kicks, but the loss of stability is noticeable. Kahtoola MicroSpikes will definitely improve your kicksledding experience and are an awesome product that perform well. But, we rate the Hill Sound FreeSteps6 slightly higher because of the increased stability they provide. Kahtoola MicroSpikes are also more expensive than the Hill Sound with a list price is at $69.95
YakTrax
YakTrax is owned by a big company called Implus Brands which owns several other brands that sell shoe insoles and other fitness gear.  YakTrax makes a crampon called YakTrax Diamond Grip. Instead of spikes, these crampons have diamond shaped beads. The beads have a lower profile than the other crampons mentioned above. This is actually a good thing; it creates more stability when standing on your foot rests. They are great for kicksledding. The only downside is reported issues with durability and rusting. Yaktrax only offers a 90 day warranty. List price is at $49.99

There are also several knock-off brands of lesser quality on Amazon. Like with most things, knock-offs typically don't last as long and are not backed by warranties from trusted companies.

The life of your crampons can be extended by rinsing them off and storing them dry. When salt gets in the mix, it can really speed up the decay of your gear. At least make sure to rinse and dry them at the end of the season. Check out our crampon selection now and hit the trail with your kicksled!

---