Q&A Kicksled Questions
What is a kicksled?
A kicksled is a chair mounted on two metal runners. The kicker stands on the runners, behind the chair, and propels the sled by kicking. The chair can be left empty, carry a passenger or be used to transport gear.
Kicksleds glide best on icy surfaces and packed down snow. Snowy trails packed down from foot traffic, lakes, ice-skating rinks, and groomed trails are all great. People even kicksled on streets with ice and snow buildup. Sliding runners help the sled glide with 1-2 inches of snow. Wide sliding runners can offer better performance in 2-3 inches of snow.
Kicksleds can really move! Speeds of up to 9 mph can easily be achieved. They perform well on flat trails or trails with gentle rolling hills.
It looks like a mini dogsled, do you need a dog to enjoy kicksledding?
No way! While teaching a dog to mush on a kicksled is pretty awesome, human powered kicking is just as fun. We got into kicksledding becasue we enjoy kicking with our legs and cruising winter trails with our toddlers.
What do I need to order to get my dog started with kicksledding?
We carry everything you need to get started. Check out our article:
Dog Mushing Accessories Explained

What size should I order?
The kicksled size you need is determined by the height of the person standing that is kicking the kicksled. From the youngest to the tallest user, we have a kicksled that will fit you perfectly. Use the height chart below to find your kicksled.
| | |
| --- | --- |
|  Size | Kicker Height/Age |
| T1 | age 1-4 |
| T2 | age 3-6 |
| T4 | age 6–5' |
| T6 | 5'–5'7'' |
| T7 | 5'8''– 6' |
| T8 | 6' 1'' + |
The height difference between the T6 and T7 is 2.4 inches. The height difference between the T7 and T8 is 2.75 inches.
Will a kicksled fit in my vehicle?
Kicksleds fit in nearly every car with a seat folded down. We have even seen a 79 inch T8 kicksled inside of a tiny Fiat.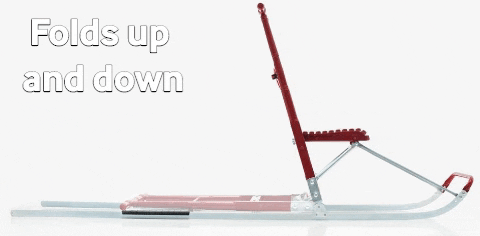 Kicksled Lengths
T4, T6, are 73 inches long.
T7 kicksleds are 73 inches long (2022 and after models). Our current stock is 2022 models and are 73 inches long.
T8 models are 79 inches long. They will be 73 inches starting in 2023-2024 season.
Kicksparks, T6 and T7 Compact Kicksleds are are 54 inches long.
Kicksled Heights
When folded down, all traditional kicksleds are no more than 9 inches high.
The seat does not fold completely flat when the kicksled is folded down. As seen in the above photo, it sticks up in a triangular like shape. Multiple kicksleds can be stacked on top of each other or side by side.
Kicksleds can slide into a SUV over the seats. In a car, they will fit with a seat folded down.
Vehicle top racks can be used to secure your kicksled. Current models of T2-T7 kicksleds fit in most ski boxes. The T8 size is longer, fit into a top mounted ski box.
How long does it take to get a kicksled assembled after folding it down?
These sleds unfold and go back together in 30 seconds. To reassemble, you pull the handle bars up, push the seat into 2 bolts and tighten 2 knobs with your hands. No tools required.
Where can I kicksled?
Kicksleds slide best on packed snow and ice... which is pretty much the entire state of Minnesota for half the year. State and local park trails are excellent places to check out. Frozen lakes are great. Flat terrain and gentle rolling hills are super fun. Even city back streets can be used when they are packed with snow and ice.
For more ideas, check out our article:
There is no trail too icy for kicksledding. But, steep hills should be avoided as kicksleds can really pick up speed.

Is kicksledding addictive?
Yes. Very. We are obsessed. That's why we started this store! It's also a great workout and fun for every age. Even dogs love it. To read just a few reasons why we love kicksledding, check out our article: 21 Reasons Why We Love Kicksledding
I can't decide which model to get!
Have a question that you can't find an answer too? Need help deciding? Please email. We are happy to answer ANY question. Expect a prompt reply. Whatever you do, don't go another winter without a kicksled!
Also check out our article Choosing a Traditional Kicksled Size
What are the size dimensions and weights for kicksleds?
What if a part of my kicksled fails or gets damaged?
If taken care of, and not left out in the rain, ESLA kicksleds have the potential to last many decades, if not a life time. And luckily, if a spare part is needed, ESLA keeps parts available for at least ten years after a product is discontinued. Parts are easy to swap out on your kicksled if needed. Please email us and we can help you get any new part you may need.
Where does kicksledding come from?
Originating in Sweden, kicksleds have been around for over 100 years. Before cars and plows, they were a popular way to travel. Imagine traveling to school on a kicksled as many children in Scandinavia did years ago.
Over the century there have been several factories in Sweden, Norway and Finland that manufactured kicksleds. Today, many have gone out of business. But one of the surviving companies is ESLA of Finland, which is where we source our kicksleds.

What is ESLA?
ESLA is a Finnish, family owned company that has been making kicksleds for almost 100 years. They are the largest maker of modern kicksleds in Europe. Brave The Snow has a close relationship with ESLA; we trust them to create solid, long lasting kicksleds that can survive harsh, Minnesota winters.
They make traditional kicksleds and also develop and design new kicksled types. They are constantly inventing and improving designs to help us get the most fun out of winter.
Fun fact: In Finnish, a kicksled is called "Potkukelkka".