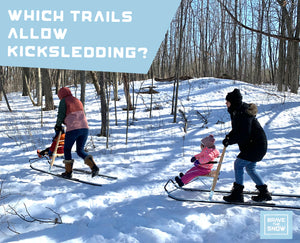 Where Can I Kicksled? Ski Trails? Hiking Trails? Where?
Which trails allow kicksledding? From hiking trails to ski trails, the myriad number of winter trail types and rules can be confusing. This guide will help you understand which trail types allow kicksledding and other tips in selecting trail that is great for kicksledding.

Hiking and Walking Trails
Kicksledding is oftentimes allowed on hiking trails. This is great news for kicksledding because there are an abundance of hiking trails in the Midwest, especially in Minnesota. Best kicksledding conditions prevail after snow is packed down from hikers, so generally it is best to wait a day after a big snow.

These trails typically consist of paved and unpaved trails:
Paved trails. Immediately after a fresh snow of a few inches, paved trails can be really fun (if you can get there before the plows). Even a city sidewalk works great. But after the sun comes out, the snow melts quickly on paved surfaces.

Unpaved. These trails are less likely to be plowed. Sometimes these trails will be described as natural, dirt or gravel on trail maps. When these trails get packed down from hikers, these trails can be a good best for some speedy, fun kicksedding.

Things to watch out for are trails that are too narrow and too windy. Curving tight radius trails make it difficult to navigate your sled. Narrow trails can make it difficult to pass hikers. Remember to slow down for hikers and share the trail. 
Mixed-Use Trails
In Minnesota, Wisconsin and throughout the northern states, there are many trails marked "mixed-use" This typically means they are open to hiking, snowshoeing, skiing, fat tire biking and sometimes even dogsledding too.

Some locations can even be found that groom mixed-use trails. These locations are gems! A grooming machine is used to pack down the snow, like it is on cross country/ skate ski trails. Over time, users pack down the trail even more creating an even more compact surface. Sometimes there will be cross country ski tracks on one side of the mixed-use trail. Avoid these tracks. Kicksled runners are wider than cross country ski tracks and our kicksleds wont fit in these tracks. 
Dog Sledding Trails
While these trails are gaining popularity, they can still be difficult to find. Kicksleds are usually allowed on dogsledding trails as most dogsled trails are also mixed-use trails. And of course, you can hook a dog up to your ESLA Kicksled or KickSpark. 
Snowmobile Trails
The US contains thousands of miles of snowmobile trails. And the majority of the 135,000 miles of snowmobile trails in the U.S. are open for multiple uses (1). This includes skiing, kicksledding, hiking, snowshoeing, and dog sledding. Minnesota has over 22,000 miles of snowmobile trails and the vast majority of trails are groomed and maintained by snowmobile club volunteers (2). If you are not a fan of snowmobiles, this might give you reason to change your mind.

Groomed snowmobile trails can provide great opportunities for kicksledding. Many trails run through state parks and are mixed-use trails shared by snowmobiles and other sports such as snowshoeing and skiing. If possible, it is worth asking and finding out more info before going out on a snowmobile trail. State parks may have their own regulations and may have snowmobile only trails. It is also great to know if the trail gets heavy use by snowmobiles. A popular snowmobile trail won't provide a safe or enjoyable kicksledding experience. Also, snow mobiles can be smelly. Generally, high traffic snowmobile areas should be avoided. Oftentimes, snowmobile trails see a lot less action during the week.

As a rule of thumb, move over for snowmobiles, consider wearing bright colors and riding only during the day. Generally, high traffic snowmobile areas should be avoided. Oftentimes, snowmobile trails see a lot less action during the week.
Lakes
Lakes and kicksleds are best friends. It is a super exciting moment when you have the chance to glide on pure black ice with no snowfall. When you get this chance, it is a great time to pop off the snow runners and glide free. When snow falls on the lakes, trails and paths can be shovelled to create a kicksledding course.  Also, sometimes an ice crust can form on top of snowfall which also makes for great kicksledding. 
There are several lakes in Minnesota where the ice is groomed with mixed use trails such as the Chain of Lakes in Minneapolis. This location is highlighted in the article "8 Twin Cities Parks That Will Make You Love Kicksledding". Of course, always keep ice safety in mind. That means monitoring ice thickness and having a plan and the equipment should you fall in. Remember that most accidents happen at the beginning and end of the winter season. 
Ski Trails
Groomed trails marked for skiers should generally be avoided with kicksleds. Many parks have groomed trails that include classic cross country ski tracks and also a skate ski area. The flat, groomed area for skate skiing appears to look like a perfect place for kicksledding. Unfortunately, kicking the sled (especially with crampons on) can damage the groomed ski trail, especially in warmer winter temperatures. Best to visit these trails on your skis. 
Ice Skating Rinks
Ice rinks are a great place to glide. You can pop off your snow runners and really travel far across the ice. Also, a great place for kids to test out their sled and get some practice. Small ice rinks in Minnesota and Wisconsin abound. Best to keep your crampons off on the rink though.

Also, a number of breweries maintain ice rinks. Some have plowed rinks on lakes in front of their establishments such as the brewery and restaurant Birch's on the Lake in Long Lake, MN. Other Minnesota breweries have human-created ice skating rinks such as Forgotten Star Brewing Co. in Fridley, and Sociable Cider Works in NE Minneapolis.
Bring along your kicksled along and let your kids kick their sleds on the rink while you kickback with your favorite brew. 
Now Let's Get Out There!
Our goal at Brave the Snow is to expand trail awareness for kicksledding; we are constantly advocating for kicksled signage on trail maps and working to get more kicksled designated trails on the map! In the meantime, while the world catches up to our lofty goals, if you are not clear about a specific trail, call ahead so you are not left disappointed on arrival. Rangers and Park staff are some of the most helpful people on the planet. Asking questions is great advocacy work for your sport!

We have some great kicksledding trail recommendations in Minnesota, Wisconsin and North Dakota. Need to rent a sled? We've got you covered there too! Now get out there and find your trail!
"Facts and Myths About Snowmobiling and Winter Trails." American council of snowmobile Associations (AcsA).

https://www.snowmobilers.org/docs/ACSA_Facts_and_Myths_book.pdf

"SnowMobile Regulations, 2021-2021". Minnesota Department of Natural Resources.
https://files.dnr.state.mn.us/rlp/regulations/snowmobile/snowmobileregs.pdf
---