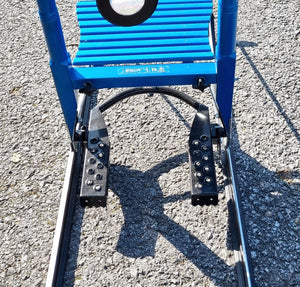 What's new for Winter 2022? ESLA Kicksled Design Changes and New Products
There are lots of exciting changes for the 2022-2023 season! New runner length for Traditional Kicksleds, a new never-before-seen double brake for Traditional Kicksleds and a brand new kicksled called the ESLA Adventure Kicksled. Read on to learn more.

Shorter length for T6, T7 and T8 Traditional Kicksleds
Pre 2022, Traditional ESLA kicksled models had a steel runner length of 78 inches and now, for the 2022-23 season, they are 71 inches. Why did ESLA change the length? One reason is for easier and less expensive shipping. Getting kicksleds shipped from Finland to the USA is very expensive. And then shipping them again to you, is another shipping cost. The reduced runner length results in a smaller pallet for shipping and will hopefully allow us to maintain our prices for the years to come. It also allowed us to drop our UPS shipping costs by $7-$11.
Another reason they shortened the runner length is so it will be easier for kicksled enthusiasts to transport our kicksled and get it to trail. While the old size fit into most cars, now they should fit into all cars. The new kicksled size also fits into a ski box and into the bed of a pickup truck.

The shorter runner length technically does result in slightly, slightly less glide. But, you probably won't notice it. And, if you are looking for even more glide on snow, you can opt for the Wide Snow Runners that we carry as an added accessory.

At Brave The Snow, we see this change as a win: less natural resources used, lower price for you, and easier to fit our kicksleds in the car and get them to the trail.

New Double Brake for Traditional Kicksleds!
This long anticipated brake will be available in December! This double brake is actually the exact double brake that has been available for Kicksparks for several years, but now an adapter has been designed that allows it to fit on the Traditional ESLA kicksled. The brake has a slick, stay-out-of-the-way design and great stopping power. Almost everyone can benefit from the added safety of a brake.
The Traditional Double Brake will be especially loved by dog mushers and people kicksledding with their dogs. Dragging your foot, even with crampons, doesn't quite give you the stopping power needed to slow down 2 strong dogs. The brake will also be useful for people who want to try their kicksled on more hilly terrain. And for those kicksledding with kids who want added safety. The extra weight with a child on the seat makes it harder to stop on hills by dragging your foot alone.  We can't wait to install a brake on our kicksled!
Check out our article on Kicksled Brakes to learn more.
New Kicksled Release! ESLA Adventure Kicksled
For the 2022-23 season, at Brave The Snow, the Adventure Kicksled will be a special order item only. This is because we want to have a season to try it out before officially stocking it and promoting it. We want to make sure it's going to be as awesome as we think it's going to be! But if you need to have it now to see for yourself, send us an email and we can special order this kicksled. Now, more about this rad looking sled…
The ESLA Adventure kicksled has a flat bed with pretty birch wood, a nod to the decades old Traditional ESLA Kicksled design. The wood bed resembles the look of a dog sled and has plenty of room for loading on gear. No seat on this sled.
The Adventure Kicksled looks like it will be awesome for ice fishing trips, Boundary Waters (BWCA) and overnight backcountry winter camping type trips. While you can pack the seat of a Traditional Kicksled with quite a bit of gear, the flatbed on the adventure sled is bigger and better equipped. Also, having the weight of the gear closer to the ground gives balance to the sled. A packed-with-gear Traditional Kicksled gets pretty unstable, especially on turns (but still manageable, we do it all the time).
It seems the Adventure Kicksled was designed with dog mushing in mind. It was designed to be compatible with several ESLA mushing accessories. This includes a Front Dog Safety Hoop which goes around the front of the sled, an added safety feature. This sled is also compatible with all the other mushing accessories that work with the KickSpark MAX including the The Kainpo Combi Mushing Adapter, Pull Rope Fasteners and ESLA Double Brake. 
Another neat thing about Adventure Kicksled has shock absorption built into the frame which yields a smoother ride on uneven terrain. This is a first time feature on an ESLA kicksled… and perhaps on any kicksled. The shock absorption can be locked up without tools when you don't need it on smoother trails. The Kicksled also has an adjustable handlebar stem to get the perfect fit for riders up to 6' 5.5''. These features add comfort to your ride, either with or without a dog.
Like other ESLA kicksleds, the Adventure Kicksled easily folds up and down by hand loosening/tightening two knobs. It can also be locked in the closed position, making lifting and handling easy when the sled is folded; this is a nice feature that the KickSpark MAX does not have. It also folds down even with mushing accessories still attached including the double brake. It is similar in size to the Traditional ESLA kicksled, it also fits in an overhead ski box.
We hope after demoing the Adventure Sled this winter, we will be able to stock this product for the 2023-2024 season. For this season, it is a special order item. Email to place your order.
To sum it up, These 3 new ESLA product updates/releases are huge news! We love working with a company that is constantly improving and innovating.
Check out our other articles to learn more about kicksledding:
Choosing a Traditional Kicksled Size: Find the perfect fit now!
Where Can I Kicksled? Ski Trails? Hiking Trails? Where?

5 Tips for Kick Power: Helping You Go the Distance on Your Kicksled!
---