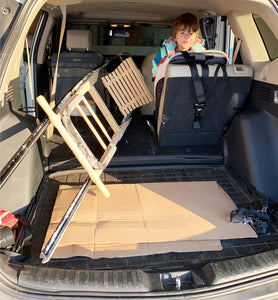 Transporting Your Kicksled to the Trail: Will it fit in my car...Yes!
Getting your kicksled to the trail is quick and easy. This article will explain how a kicksled folds, kicksled dimensions, and ways to transport your kicksled. After reading, you will be assured you will be able to get your kicksled in your vehicle.
How does a kicksled fold?
With ESLA's folding kicksled design, you'll be on the trail in no time – no tools needed. After the initial assembly, kicksleds are ready to use by fitting two bolts in place and tightening two hand knobs.  (Kicksleds need a few bolts tightened with tools when they are new out of the box).
Below is a photo of the bolts and one hand knob. There is a metal plate that allows the seat to attach and rest on these bolts. Tightening these hand bolts attaches the kicksled together. These must be tight at all times, to avoid injury and to avoid loosing a knob. And we do stock replacement bolts and knobs.
When in the folded position, traditional kicksleds have about a 9 inch height clearance. This is due to the front bar (called a brush bow) which curves up and the seat which sticks up in a triangular like shape.
Kicksled Lengths
T4, T6, T7 and T8 kicksleds are 71 inches long (2022 and after models). Our current stock is 2022 models and are 71 inches long.
Below is a photo of a 79 inch (older model) kicksled inside of a tiny Fiat. It fit!
Kicksparks, P6 and P7 Compact Kicksleds are 54 inches long, both shorter options.
Also, multiple kicksleds can be stacked on top or next to each other.
All kicksleds fit into a top mounted ski box. Other types of vehicle top racks can also be used to secure your kicksled.
So measure your vehicle to feel confident it will fit, and order your kicksled now!
Check out our other articles: 
Choosing a Kicksled Size
Which Trails Can I Kicksled on?
Kicksledding With Dogs
Kicksledding With Kids
---