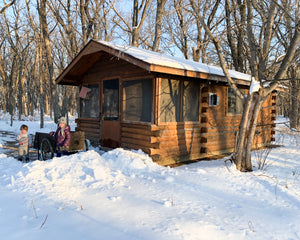 MN State Park Camper Cabins (they have heat!): Winter Glamping and Bring Your Kicksled!
Minnesota State Park camper cabins are AWESOME in all seasons. But they are especially awesome in winter. Having a heated cabin with actual beds makes winter camping accessible and comfortable! Oh yea, and these State Parks have trails for kicksledding! BYO kicksled.

What is a Minnesota State Park Camper Cabin?
They are basically a one room log cabin furnished with a table, benches, and wooden bunkbeds with mattresses. Bring your own bedding. While cooking is not allowed inside the cabins, you can use crockpots and coffeepots. Think Instapot meals and long simmered stews. All of the cabins mentioned here have heat, and most have electricity. There is usually a screened-in porch attached to the front of the cabin – great for storing your snowy gear before stepping inside your cozy warm cabin. Right outside the cabin, you will find a picnic table and a fire ring. The cost ranges from $70-80 per night.

The following parks are highlighted because of their beauty and location to kicksledding trails. Whether going solo, or with your family, don't wait till winter to plan your trip. MN State Park camper cabins book 4 months in advance! So don't wait to book one!

Here is our list of 9 parks for a kicksled-glamping, camper cabin adventure:
1. Marine on St. Croix–William O'Brien State Park
William O'Brien is located 40 Minutes NE from the Twin Cities and is located on the St. Croix River.

CABINS: Three camper cabins are available for winter rental. Marine Mills Cabin and Vasa Cabin sleep 5 people and Otisville Cabin sleeps 6. These cabins are heated. They are located in the Savannah Campground so you will need to drive your kicksled over to the Riverside Trail.
KICKSLEDDING TRAILS: Riverside Trail is a 1.6 mile loop trail that follows the St. Croix River and travels next to Lake Alice. This popular trail gets packed down quickly from hikers making it perfect for kicksledding. The trail is easy and flat. Try your kicksled on Lake Alice too!
2. Battle Lake, MN – Glendalough State Park
Glendalough is located 2 hours and 50 mins NW of the Twin Cities. Pack up your kicksled and everything you need for a night out in the woods. Yurt or cabin style.

YURT LODGING: Kicksled a two mile trail and arrive at your very own heated yurt! Yurts are insulated round canvas structures with wood floors. Here, they have a woodstove for heat and in the winter, wood is provided. The trail leading to the 2 yurts has one side groomed for skiing, and the other side packed for hiking and kicksleds.
CABINS: Four camper cabins are also found at Glendalough. They have amazing gas heaters that look like little fireplaces. They make the cabin feel cozy and keep the space really warm. These are cart-in camper cabins. You pack all of your gear onto a cart and push it to your cabin (500-100 feet). This provides a more secluded cabin experience. Carts are provided free (or use your kicksled). Also firewood is available for purchase. Rentals are available Thurs-Sun.
KICKSLEDDING TRAILS: The two mile trail leading to the yurts is the only groomed trail for kicksledding. But there are several lakes that could provide excellent kicksledding. Occasionally, the park also grooms Sunset Lake Trail if drifting is not severe. This trail is a short loop on the north end that overlooks the slough. Inquire at rangers station. Park also has 8 miles of groomed ski trails as well as snowshoe and hiking trails. Snowshoe and ski rental available there.
3. Starbuck, MN – Glacial Lakes State Park
Glacial Lakes is located 2 hours and 20 minutes west of the Twin Cities. It features rolling glacial hills unlike any other area in Minnesota as well as Signalness Lake other small accessible lakes.
CABINS: There are four camper cabins available in winter with heat, electricity, and a porch. Kettle, Kame, and Glacial Erratic cabins sleep 6. Esker cabin sleeps 5 and is accessible. No pets are allowed. They are available for rent Thursday - Sunday during winter.
KICKSLEDDING TRAILS: All trails at Glacial Lakes are open to kicksledding, although none of the trails are groomed or packed. Recommended trails include High Point Trail, a 2.5 mile loop that travels through Oakridge Campground to the High Point Trail. There are also mixed used trails located in the southern part of the park that go to Kettle Lake, approximately 5+ miles. The hike/horse/snowmobile trails are not super busy and are even less busy during the week. As always, be extra cautious on snowmobile trails. You can also check out Signalness Lake on your kicksled.
4.
McGregor, MN– Savanna Portage State Park
Savanna Portage is located in McGregor, MN a two hour drive north from the Twin Cities. This park has a few trails that permit kicksledding. Also, the Remote Lake Solitude Area is directly next to the state park property and contains a few miles of hiking and skate ski trails open to kicksledding. While there are also snowmobile trails at this park, the ranger has advised to avoid these trails because of safety.
CABIN: The camper cabin is available Thursday - Sunday in winter. It sleeps 5 and is wheelchair accessible. There is no electricity, running water or bathroom. There are showers and bathrooms in the campground. Pets not allowed.
GUEST HOUSE: The guest house is called Garni Guest House and can accommodate up to six people. It contains one bedroom with a full bed, two twin beds, and a full futon. It also includes a bathroom with a small shower and a full kitchen with amenities. Cost is $120 per night, plus tax.
KICKSLEDDING TRAILS: Check out the 1.1 mile loop around Loon Lake. Right next to the camper cabin is another loop for kicksledding that goes around Lake Shumway.  There are also 4 lakes to explore on kicksled. The Remote Lake Solitude Area directly next to the state park contains a few miles of hiking and groomed skate ski trails open to kicksledding. Don't miss checking out these trails!
5.
Soudan, MN– Lake Vermilion-Soudan Underground Mine State Park
Lake Vermilion is located 3.5 hours north of Minneapolis and 20 minutes from Ely, MN. The park protects 15 islands, includes over 10 mile of lake shoreline and has an extensive network of trails.

CABINS: The park has eight NEW camper cabins with heat, electricity, AND Wi-Fi that are open throughout winter. There are also accessible heated showers and flush toilets nearby that are shared among all the cabins. Each cabin sleeps six people. Cabins can be reserved online
KICKSLEDDING TRAILS: Mixed use snowmobile trails in this park are frequented by hikers and fat tire bikes. Although none of the trails are packed or groomed by the park, snowmobiles should do a decent job at packing the mixed-use trails throughout the park. Also check out kicksledding on Lake Vermilion. 
6. Currie, MN– Lake Shetek State Park
Lake Shetek State Park is located in Currie, Minnesota and is 3 hours SW of the Twin Cities. It contains Lake Shetek which forms the headwaters of the Des Moines River.
CABINS: This park has 4 heated cabins available Thursday–Sunday. Cabins C2 and C3 are wheelchair accessible, and sleep 5. Cabin C1 sleeps 5, and C4 sleeps 6. Pets not allowed in cabins.

KICKSLEDDING TRAILS:  Loon Island, a 45 acre island, is found on Lake Shetek and is accessible by kicksled. The park grooms snowshoe trails when conditions are right which could also be used for kicksledding. Try out Lake Shetek on your kicksled too.
7.
Preston, MN–Forestville-Mystery Cave State Park
Located 2 hours SE of the Twin Cities .
CABINS: Five camper cabins with heat and electric are available year-round. Mink, Pine and Owl each sleep 6; Lily and Trout are wheelchair accessible and each sleep 5.

KICKSLEDDING TRAILS: The flattest trails for kicksledding are the Townsite loop and River Bottoms Trails. Both of these trails can be accessed from the parking lot at the picnic shelter or the townsite. You can kicksled on the groomed snowmobile trails but rangers warn that it's a bit risky. If you are into skijoring, dogs are permitted on trails in the winter.  
8.
Carlos, MN – Lake Carlos State Park
Think glacial moraine topography dotted with ponds, marshes, and lakes nestled among the hills.

CABINS: Located in the upper campground, 4 camper cabins are available with electricity, heat and a screened porch.  1 cabin sleeps 5 (wheelchair accessible), the other 3 cabins sleep 6 each. Rentals available Thursday - Sunday.
KICKSLEDDING TRAILS: This park has ski trails and snowmobile trails. Ranger has recommended snowmobile trails as best for kicksledding. There will also be ample packed down snowmobile tracks on Lake Carlos. Snowshoes are available to rent at the park office.
9. Farmington, MN–Whitetail Woods Regional Park
While this one is not a State Park, its proximity to the Twin Cities make it a convenient get away. It also books up in the blink of an eye, so you'll have to be on top of it to secure a cabin.
CABINS: Super cool modern design with access to trails.  The five year-round camper cabins at Whitetail Woods Regional Park sleep 6. Electricity, heat, and Wifi are included. These cabins get booked up quickly. Cost $90 per night. Book 120 days advance online.
KICKSLEDDING TRAILS: Five miles of winter hiking/snowshoe trails leading to Empire Lake open to kicksleds. Also there is a sledding hill and six miles of ski touring trails.
Don't wait to book your camper cabin!
Minnesota State Park Camper Cabins and Whitetail Woods Regional Park all book out 4 months (120 days) in advance. Many of these parks book up fast, so book your spot now! And here is more info on MN State Park camper cabins with detailed descriptions of cabins.

We can also help you find the perfect size kicksled to take along on your adventure! Check out: Choosing a Kicksled Size: Find the perfect fit!
And of course, if you don't already have a kicksled, grab one of those too!
---