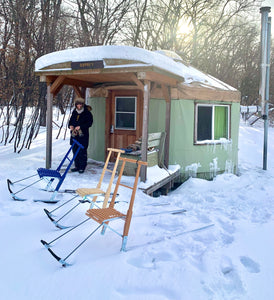 Yurt Adventure Trail Review: Kicksledding at Glendalough State Park, Minnesota
This review details Glendalough State Park located in Battle Lake, Minnesota, located about 2 hours and 50 mins SW of the Twin Cities. This review was written after a kicksledding adventure and yurt stay in January 2022.

Winter Glamping? You can do it! Minnesota State Parks has awesome yurts and camper cabin for winter use. One of our favorites is at Glendalough State Park. It has two yurts and four camper cabins that provide a warm, rustic base camp for an ultimate kicksledding adventure. Winter camping can be intimidating at first, but booking a cabin or yurt is a great way to get started.

Yurts and camper cabins can be booked 3 months in advance on the MN state park website. They fill up quickly, so don't hesitate to book. Read more for all the details you will need for a one of a kind, accessible, winter adventure. 
YURT LODGING
The yurts found at Minnesota State Parks insulated, have windows, a skylight, a secure front door and usually bunk beds. 
There are two different sized yurts at Glendalough, a smaller and larger. The smaller has two beds and sleeps 3. The larger sleeps 7.
They both have woodstoves which are used to keep the cabin toasty warm, even in the coldest part of winter. At Glendalough, wood for the stove is provided and stocked near the yurt; you do not need to pack in firewood. Getting up once per night to restock the stove is enough to keep the yurt very warm, even at -17 below like it was on our trip.

The wood stove can also be used to heat up water in the winter, which is really helpful. Camp stoves are not allowed in the in the yurt. Bringing food that requires hot water would be easiest, but we cooked burgers outside on a fire outside. But, being able to brew a warm beverage with little effort on the stove inside makes things more fun.

CAMPER CABINS
If you can't nab a yurt or don't feel ready for a 2 mile ride or hike to the yurts, try a camper cabin. Four camper cabins are available at Glendalough. They have amazing gas heaters that look like little fireplaces. They make the cabin feel cozy and keep the space really warm. These are cart-in camper cabins. You pack all of your gear onto a cart and push it to your cabin (500-100 feet). This provides a more secluded cabin experience. Carts are provided free (or use your kicksled). Also firewood is available for purchase near cabins.
Cabin and yurt rentals are available Thurs-Sun.
Getting to the Yurts
You park at the lot between Blanche Lake and Annie Battle Lake near "the Lodge" as seen on the map.
It is a two mile hike-in, kicksled ride, or ski-in to get to the yurts. There are also pulks available to use at the trailhead which can be used to pull in your gear. They look like giant black sleds.
We were able to pack our kicksleds with everything we needed for 2 nights at the– sleeping bags, food, clothes, water (unless you want to melt snow), and other winter gear.
The trail you want to take is the one marked in yellow on the map below. We took the trail that was closest to the lake. This trail had deep snow and not groomed. It took us a very, very long time and we spent more energy on this small section than we did for the remainder of the trail.

The trail leading to the yurts has one side groomed for skiing, and the other side packed for hiking and kicksledding. Try to stay of the ski tracks if you are hiking or kicksledding.

Kicksledding and other activites at Glendalough.
The two mile trail that leads to the yurts is typically the only trail in the park groomed for kicksledding. But there are several lakes that could provide excellent kicksledding depending on conditions.We went kicksledding on Annie Battle Lake.

Occasionally, the park grooms Sunset Lake Trail if drifting is not severe. This trail is a short loop on the north end that overlooks the slough. Inquire at rangers station for a trail update.
The park also has 8 miles of groomed ski trails as well as snowshoe and hiking trails. Snowshoe and ski rental available at the park.
There are also many lakes that provide opportunities for ice fishing.
Other things to consider

Things we enjoyed on our kicksledding adventure: around during the day and stopping in pretty places to rest and chat on our kicksleds.
The camper cabins are more kid friendly choice, as you have access to your car. My kids really enjoyed the camper cabin experience on a different trip. The yurt trip we completed was all adults.
For the yurt adventure, make sure to set out during daylight. We made the mistake of setting out in the dark and we ended up on a longer trail that wasn't groomed. This mistake caused us to almost have to return back to the car and get a camper cabin instead. It was an amazing experience.

Book your trip now. It will definitely be an adventure!

Trail Map for Glendalough State Park
Check out our other article on even more Minnesota State Park Camper Cabins (with trails to kicksled)
---