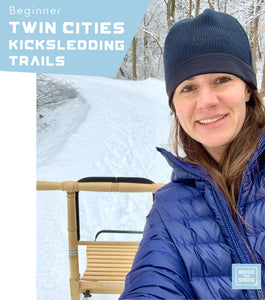 9 Twin Cities Parks That Will Make You Love Kicksledding
Minneapolis and Saint Paul (and very near suburbs) are home to some great beginner kicksledding locations. From state parks, to city regional parks, you don't have to drive far with your kicksled to find an excellent trail. Until kicksleds gain more popularity, kicksledders will continue to share trails with hikers. But luckily, there's no lack of hiking trails in the Twin Cities.

What makes a great kicksledding location? Easy access, beauty, and snow conditions. For a smooth, fast ride, you gotta know the trail. Trails with a lot of foot traffic equals packed down snow– perfect conditions for your kicksled. All of these recommendations see a lot of foot traffic by hikers. They are also accessible with ample parking. And OF COURSE beautiful too!


Crosby Farm Regional Park
Kicksledding allowed on all trails
This park is a favorite. Kicksled along the Mississippi River and two lakes, Crosby Lake and Upper Lake for over 6+ miles of kicksledding adventure. Tons of exploring along the river and woods. You might even find the tree cave. This trail continues along the Mississippi all the way to Hidden Falls. If you are pushing kids and trying that journey, I wouldn't go for a round-trip. Instead, arrange a pickup at the other end. There are portable restrooms currently (covid times). 
Hidden Falls Regional Park
1313 Hidden Falls Dr, St Paul, MN 55116
Kicksledding allowed on all trails
Follow a loop along the Mississippi that curves back toward the parking lot through the woods. There is a short trail that goes back to the falls. Or, go the opposite direction (South), and head towards Crosby Farm for up to a 6+ mile ride through woods that meets the Mississippi in several places.  

Minnehaha Falls, Lower Glen Trail
Park at Minnehaha Falls Wabun F lot. 46th Ave. S, Minneapolis

Lower Glen Trail 1.2 miles (round trip)
Fun and pretty beginner trail! This trail gets a lot of foot traffic and gets packed down quickly after a snowfall. The trail is pretty short to reach the Mississippi River, .6 miles. And it goes by really quick. There are some gentle down slopes, and pretty soon you have reached the Mississippi already. Very scenic. There is a little sandstone cave at the end of the trail if you cross the bridge by the river. If the ride isn't long enough, consider going there and back a few times, the trail is fun enough to warrant multiple passes.
To get there, the closest parking (and it's free parking) is at the Wabun F lot, which is the nearest point of the lot on Google Maps; Lot is on 46th Ave. S. Park and cross 46th Ave to get to the trail. It kind of looks like you are walking towards a bunch of small trees and brush but the trail down is there. You will see the black top, paved downhill. This slope gets plowed so you will need to carry your kicksled down this little hill. But at the bottom of the hill you will see the packed snow trail. Take the trail on the left that follows Minnehaha Creek (east side of creek).
Lebanon Hills Regional Park
860 Cliff Road, Eagan, MN 55123

Shultz Lake Loop aprox. .7 miles
Jenson Lake Loop. 2.2 Miles
While this park offers lots of Cross Country ski trails, they have kept two awesome loops for hikers and kicksleds. Both of these loops are great with kids, not too long. And nice size lake to kicksled on if conditions are favorable. 
Dodge Nature Center–Main Property 
1715 Charlton St, West St Paul, MN 55118 
Kicksledding allowed on all trails (110 acres)

Dodge is really excellent for kicksledding. They plow some of the trails, leaving some snow which makes ideal kicksledding. After a bigger snowfall, a day or two of foot traffic is long enough to pat down the other trails, resulting in great kicksledding. There are wooded forest trails, prairie trails and ponds. The larger pond near the farm usually has a snowblowed loop for easy kicksledding. There are a variety of hills. Note that a few of the hills are too steep for safe kicksledding. You can walk your kicksled down or turn around and go a different way.

Also, dogs and bikes are not allowed here. It is calm and uncrowded. You can stop off to watch the horses or stop at the raptor center to check out birds of prey. There are several parking areas.

Fort Snelling State Park

200 Tower Avenue, St. Paul, MN 55111  Trail Map
6 miles of trail are groomed for multi-use.
3 miles of groomed walking trails are maintained on Pike Island.
Explore this state park that offers miles of kicksled fun! You won't kicksled far before seeing deer! There is also Pike Island, which has mixed use groomed trails, which, make for a very smooth, fast ride. 

Theo Wirth Regional Park
1221 Theodore Wirth Parkway, Minneapolis, MN 55422 
Kicksledding allowed on most trails (except ski trails)
Tons of trails to explore on your kicksled here. This park is the biggest in Minneapolis and attracts a lot of people. Trails get packed down rather quickly after a big dump of snow creating great kicksledding. If you dream of being able to kicksled on the awesome cross country ski trails at The Trailhead run by the Loppet Foundation, they are open to granting permission via email. They are currently (for Winter 2021) considering allowing kicksleds on a certain day of the week depending on conditions. Kicksleds can tear up the groomed surface if the weather is too warm. Also, beware of big hills at Theo Wirth. If you aren't wearing crampons, or have a brake on your kicksled, don't risk hills of any size, especially with a passenger. 

Minneapolis Chain of Lakes: Bde Maka Ska, Cedar Lake, Lake of the Isles, Brownie Lake*

A bit later in the season, when lakes are frozen over, Minneapolis grooms trails on the most popular lakes: Bde Maka Ska, Cedar Lake, Lake of the Isles and Brownie Lake. The perimeters of these lakes have two groomed trails that run parallel to each other. One groomed trail is for skiers, the other groomed trail for non-skiers (this means kicksleds). And all of these lakes are connected by snow trails! If you are feeling ambitious, you can kicksled around all 4 lakes in one shot. Skiers do need to buy a Natural Snow Ski Pass.  It seems kicksledders do not need to purchase a pass to kicksled on the walking trail. These lake trails are maintained by Loppet Foundation.

Tamarack Nature Center
5287 Otter Lake Road
White Bear Township, MN 55110
Turtle Pass trail (.12miles)
Bluestem trail (.5 miles)
Acorn Trail (1.25 miles)
Tamarack is great if you are up for some short distance kicksledding. The varied landscape is really fun to explore. Turtle Pass trail is short but it winds through a really scenic birch forest and ends at Tamarack Lake. There is also Acorn Trail. Kicksledding is also allowed on the Bluestem trail but, since it's paved, the snow can melt if there's a stretch of sunny days. The nature center also has bathrooms available (non-covid times). There are portable restrooms currently (covid times).
*This one I have not tried yet, but I have to include it because it is so awesome. I found out about it too late in the season of 2021.
There you have it! 8 easy, beginner locations for kicksledding. Grab your sled and get out there! 
---