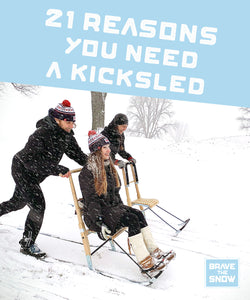 21 Reasons Why You Need a Kicksled
You can kicksled with all your friends. Give a friend a ride on your seat. And, travel in a pack as a group.


To try something new! People have been traveling by kicksled for over a century in Scandinavian countries. But it still might be new to you!


Instant fun. Kicksledding is easy. You hop on and kick. No lessons required. No learning curve.


Get a workout. Keep in shape all winter. Kicksledding is great exercise.


Cure your need for speed! Traditional Kicksleds can reach speeds of over 9mph. Kicksparks have reached top speeds of over 20mph. If you want to go fast, you can.


You will begin looking forward to snow instead of dreading it. You might even feel sad at the end of winter. Seriously.


You can bring your kicksled to cruise local park trails. All you need is a snow packed or icy trail. Even a city street or sidewalk.


You can bring your dog. Attachments and lines are available to get your kicksled dog ready. Dogs love kicksledding. And training them can be a great winter goal.


You can glide on frozen lakes. A new way to experience traveling over bodies of frozen water. Bring your fishing pole and try ice fishing while you're out there.


You will have a chair with you wherever you go. Definitely more comfortable than a snow covered log. After a long kicksledding adventure, a comfy place to sit in the woods and enjoy nature is a great way to relax. You can even bring an insulated canteen of hot cocoa to enjoy.


Kicksledding is safe. The best kicksledding is on flat trails with packed down snow or ice. No big hills, mountains or deep snow.


You have kids or might have kids. This is a safe sport you can enjoy with even the littlest riders. Even a two year old can ride a kicksled!


You will never have to carry your kid back to the car on a winter hike. You can push them on your kicksled instead!


You won't have to buy a different size for your kids every year. A kicksled will last them 3-5 seasons. Check out the article: choosing a kicksled for children.


As a kicksled enthusiast, you will officially be a "winter person". The biggest secret to loving winter is finding an outdoor activity you are passionate about. 


You will help popularize a sport that predates the Winter Olympic Games. The Nordic Games included kicksledding competitions!


You will own a kicksled that, if properly cared for, will last a lifetime. ESLA kicksleds are made in Finland and built to last with quality materials.


You will support products created from sustainable birch wood and recyclable steel. 


You will gain positive mental health benefits of getting outdoors. Not to mention natural Vitamin D, which we all need more of during winter.


You will be motivated to check out different local and state parks to find the best trails for kicksledding. Some parks even offer rentals. Check out our article: Kicksled Rentals in the Midwest.



You will feel like a kid again! Wind blowing through your hair. Gliding on snow. Huge smile on your face. All the good stuff!
You did it! Now you know how rewarding and fun kicksledding is. Take the next step in your quest for winter adventure and browse our kicksled selection.
---