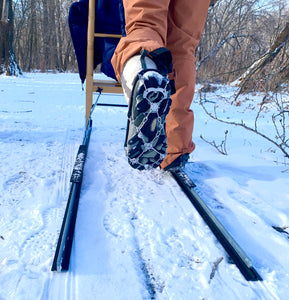 Stopping Power: Do I Need a Kicksled Brake?
People have been kicksledding for almost 100 years in Scandinavia using only their foot as a brake. Using your boot as a brake works quite well, especially on flat trails, frozen water bodies, small hills and even larger hills if there is a fresh deeper layer of snow.
But, when icier conditions come into play, especially on hills, your foot alone will not be enough to stay in control. And if you are kicksledding with dogs, a foot alone will definitely not be enough. Read on to learn more about braking on your kicksled.

Overview snapshot : Should I get a brake?
Get a brake if: 
You are kicksledding with dogs
Get a brake and crampons if:
You are kicksledding with small children passengers on trails that have small-medium hills.

You tend to push the limits on big hills and ride like a wild person.



Don't get a brake (but still get crampons) if:
You are sticking to flatter trails with small hills and frozen water bodies.
Let's take a deeper look at the products available for braking on a kicksled: crampons and double brakes. 
Crampons
Crampons can be worn over your boots to add braking power. The spikes dig into the ice and snow and slow the sled. This amount of stopping power is sufficient for nearly any icy trail with medium hills. But even with crampons, big hills (such as a sledding hill) should be avoided.
Crampons are not just a brake, they also help you to get more power out of your kicks. When trails get icy, your foot will slide around without crampons or some sort of traction device on your boot.

Many people in the north already have crampons for winter walking and hiking. This is an added bonus of not having to buy something new specifically for the sport. Crampons work really well for hiking, and staying alive on icy sidewalks and driveways. They are a great product to own for Minnesota winters in general.

Crampons will typically not be enough if you are planning to kicksled with dogs. Factors to consider is how many and how powerful your dogs are. You might be able to use crampons as a brake when kicksledding with one small dog.
Check out our other articles on crampons.

Double Brakes
Kicksled brakes are a relatively new development in the world of recreational kicksledding. We are especially excited about the Traditional ESLA Kicksled Double Brake (new in 2022).

This double brake is actually the exact double brake that has been available for KickSparks for several years, but now an attachment has been designed that allows it to fit on the Traditional ESLA kicksled. This means doubles brakes are available for all ESLA kicksled and KickSpark models.
The double brake has a slick, stay-out-of-the-way design and great stopping power- it has two sets of metal teeth that dig into ice and snow. It is spring loaded so it bounces back up when it is not being pressed down. It also is designed in a U shape so it doesn't interfere with kicking.
The Traditional Double Brake will be especially loved by dog mushers and people kicksledding with their dogs. Dragging your foot, even with crampons, doesn't quite give you the stopping power needed to slow down 2 strong dogs.

For those kicksledding with small children riding on the kicksled seat, or riding doubles with two kids, the double brake is a safe option. The extra weight with a child on the seat makes it harder to stop on hills by dragging your foot alone.  The extra weight picks up speed fast.
The brake will also be useful for people who want to try their kicksled on more hilly terrain… places we used to be afraid to venture without a reliable brake.

Check out other kicksledding articles to learn more.
---