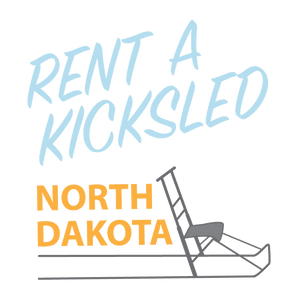 Kicksledding in North Dakota: Rent a kicksled at ND State Parks and experience the fun for yourself!
North Dakota is home to some great kicksledding trails! ND State Parks are ahead of the kicking trend. North Dakota is the only place in the USA that offers kicksled rentals at a state park. If you live in North Dakota, take advantage of winter, and go rent a kicksled at Islandic State Park or Fort Stevenson State Park. This easy, family friendly sport will have you cruising winter trails in no time.

Cavalier, North Dakota

Islandic State Park
A frozen winter wonderland awaits you at Islandic State Park. Located about an hour north of Grand Forks, this park is just miles from the Canadian Border. It is home to North Dakota's first dedicated state nature preserve, Gunlogson Nature Preserve. Exploring this park by kicksled is the way to go!
Islandic State Park has a fleet of 10 ESLA kicksleds of various sizes (kid-adult) for even the smallest kicksled enthusiast. As you cruise the trails on your kicksled, keep an eye out for deer taking cover under the trees. And don't forget to experience the beauty of frozen Lake Renwick on your kicksled!
This park is also known for ice skating, sledding, snowshoeing, cross-country skiing and…. ice fishing. Attach your pole and auger to your kicksled and kick your way to a frozen fishin' hole.
Trails: 
Campground Trail (1 mile)
Historic Buildings Trail ( ½ mile). 
Lake Renwick- try kicksledding the lake when frozen conditions prevail
Cost: $15 day per sled and an annual or daily vehicle pass is required to enter the park.
Garrison, ND

Fort Stevenson State Park
About an hour north of Bismark, ND you have a great kicksledding rental selection at Fort Stevenson State Park. Experience the beauty of snow covered bluffs coupled with the north shore of Lake Sakakawea. Cruise your kicksled through a woodland full of snow dusted ponderosa pines. Packed, groomed trails are open to both kicksledding and fat-tire biking (also available for rental). The park has 10 ESLA kicksleds available for rental with kicksled sizes that range from child to the tallest adult. Any age can take advantage of this easy fun sport at Fort Stevenson State Park!
Trails: 
North Loop Trail (.75 miles) Easy
Flicker (2.3 miles)
Northern Pine Loop (2.2 miles)
Cost: $15 day per sled and an annual or daily vehicle pass is required to enter the park.
There you have it! Two beautiful ND State Parks that rent kicksleds. Try it out! If you love it, get your own and explore even more trails around the state!
Looking for kicksled rentals in South Dakota? At this point, you're out of luck. 
Looking for kicksled rentals in Minnesota? You are very lucky! Post coming soon!

And looking for kicksleds rentals in Wisconsin? There are a few! Post coming soon!

---