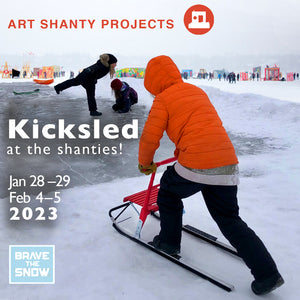 Minneapolis @ Lake Harriet: Kicksleds at Art Shanty Projects Jan 28–29 and Feb 4–5, 2023
Try kicksledding in Minneapolis on Bde Unma / Lake Harriet at Art Shanty Projects on January 28–29 and February 4–5, 2023 with Brave The Snow. From 11AM-4PM, Brave The Snow will have our fleet of kicksleds ready so you can cruise the lake and checkout the shanties!
The festival is on the frozen lake on the northwest corner of Bde Unma / Lake Harriet and kicksleds will be there these 4 days for FREE use. 
Give Away Alert! There will be a giveaways for an electric blue T6 kicksled! You can enter the giveaway by attending the Art Shanty Projects event and posting a photo of yourself having a blast at the shanties using the hasgtag #ShantyBrave on Instagram! More details to come in January 2023!
Also, if you attend on January 28, the Lake Harriet Winter Kite Festival (12-4PM, same location) will also be taking place near the shanties at the same time!
About Art Shanty Projects: "Since 2004 Art Shanty Projects has created whimsical, weird and joyful winter art experiences for grown ass adults and kids of all ages. Inspired by pop-up ice fishing villages, artists use the frozen lake as a public platform to create a temporary, interactive community." –From www.artshantyprojects.com
---